Last Saturday, I went to have dinner with Nirah. She just finished her exams then, and it appeared that she had a rough moment with the MMU security officers. So, she wasn't too happy that evening. Thankfully I had a Starbucks coupon to lighten her up a bit.
After the drink and dinner, we felt that it was too early to retire, so we decided to ride around Putrajaya to see if there was anywhere for us to chill. As we approached the Masjid Putra area, we noticed a long queue of cars entering it.
We skipped the queue first, but then again, we were curious, so we joined the queue. And then it look like we could cut the queue, but as we sped forward, it turned out to lead to a separate exit, which doesn't lead into Masjid Putra. So we decided to move out of the roundabout and get to it through Precinct 2. As we approached Precicnt 2, however, we noticed a lot of cars.
Well, make that a 3-digit-count of cars. There must have been at least 200 cars entering, and a few hundered more already parked. You can see policemen guiding cars around the area as well. Nirah and I were practically exchanging glances, wondering just wtf is exactly going on around here?
So, out of curiosity, we decided to join the crowd, and tried to get ourselves a parking space. Suddenly, the car in front of me stopped moving, and its reverse light lit up!
At that point, Nirah took matters into her own hands by stepping out of the car to find out what went wrong.
Unfortunately, a few cars ahead of us, some idiot decided to double-park his Waja, and blocking access to the parking exit. And just as I was about to reverse out of the mess, an idiot decided to park his Wira just behind me, at the bend!
As I waited there, motionless, I looked around see people moving about by the thousands. Most of them in families. You can see the wife, the kids, even the mother-in-law. My mind went thinking to a funfair, or festival or carnival or just some crazed Raya mega sale.
Suddenly, the car in front me moved inside, and he, too, double-parked.
As I moved into the bottleneck, a car was facing me, waiting for me to move in further so he and another car could get out. So I moved in, hoping that I could do inch about and turn around so I can get out of the mess. Nirah went outside to help me reverse around, and she went to inquire what was going on. After I succesfully turned around, Nirah got in.
"Guess what's going on."
"How I know?"
"It's got something to do with Raya."
"Uh..sale? Bazaar?"
"Open house."
"Oh god."
And then it hit me. Those families. Those thousands of heads, all swarming toward one common goal: free food. As we moved out of the god-forsaken area, we saw more and more vehicles and people loitering around the area, and some of them ehading out, each with a bottled water in hand. I would really hate to imagine what food they were served with. In all, I was stuck there about an hour.
The air stank with smoke and human odor all the way. I knew this because I rolled down the window to scream my stress away. Boy was running low on fuel, too, so we headed to Precinct 9 to fill up. It was then that I noticed something went terribly wrong.
"Apsal brek tak makan, hah?"
To my horror, I realized that the brakes weren't gripping. At least not until I floored it. I was so shocked by it that I didn't realize that I ventured right into Precinct 11, missing the Petronas in Precinct 9. And then, Nirah showed me.
"Fazri, your hand brakes were up all the while."
Oh. Em. Eff. Gee. That sure explained it. No wonder the brake latches weren't functioning. It was disengaged all the while. So, I went real slow, and filled Boy up so I can send Nirah and myself home. The whole ride back was quiet, Nirah wanting me to focus on the road, and myself being speechless at the fact that I fucked the brakes up. Fortunately, as we approached Cyberjaya, the brakes started to grip again. After dropping Nirah off at Cyberia, I went home, and it seems that Boy's brakes were back to normal.
Reached back to a sleeping home, I changed and had a hot shower to clear my head.
That was one long night.
*******
As for today, I went out with my homies to do some shopping at Low Yat. It was a day without any fixed plans [aside from a 'deal' in PJ later in the evening] so we decided to grab lunch at this stall in Kg. Baru that serves a really wicked Mee Rebus Special which satisfies the hungry souls for only RM3.50 per serving. Since it was my first time driving around the city center, I missed quite a few turns and got stuck in a few rush hour jams, but we got there just in time for lunch, anyway.
Once we had our bowels purring with joy, we set our course to Low Yat. Again, missed a few turns, got into some jams, but we made it Low Yat without much hassle. We went up to get myself a printer, and then down one floor to do some light shopping at Sri Computers, where I bought myself a few casing fans. I was thinking of overclocking Sarah today, hehehee…
After settling the deal in PJ, we went to OU to help a friend look for a birthday gift for his girlfriend [or so he says], and being the fussy motherfucker that he is, we wasted well over 2 hours of searching for the stuff. It was then that another friend was indirectly flaming him, but the guy just doesn't get the drift. About 7pm, we agreed on hunger so we took a break at Burger King and resumed the search then. I reached a PC store that sells original games, but they don't have a copy of World of Warcraft, yet, boohoo. Oh well. Once that guy got a teddy bear, we sped home.
I was so excited to put the fans on Sarah, and see if they actually help in pc performance issues. I had a hard time screwing the fans in place, since there wasn't really anywhere for me to screw the fans in place. I just had to make do with whatever holes available and I actually screwed one on the grills and laid another one on the casing floor, leaning a bit at one the PCI slot openings. I even had to leave one dangling by only one screw. One was pointing across the mobo, blowing over the CPU and a bit of the VGA card, another one was on the floor, tilted about 45? upwards, pointing at the VGA card, and the last one facing the side, blowing air out of the casing. The airflow seems to be fine, since I could feel warm air blowing on my toes.
This got me even more excited.
So, I started, abt manually adjusted the CPU speed to 2.3 GHz, up from the default 1.7Ghz. A quick restart, and then…nothing. It wouldn't start. I was a bit dissapointed, so I called Hup Lim up for some pointers. The guy sounded tired and shit but he told me something anyway.
"Reset your BIOS. The easiest way to do this is to pluck out the BIOS battery, and reinsert it."
So I did.
Over clocked it again, and it still wouldn't start. Thinking that the short fuck would be fast asleep by then, I called up Yun Chuan instead. Told him abt the shit, and after he dropped his jaw [I could hear the clank as it landed on the floor] he told me…
"Set your harddisk as your primary boot device. That should work"
Okay, that's easy to do. Oh my, it still won't work.
"Uhh…okay. check your FSB."
"FS what?"
"Your CPU Frequency Multiplier"
"Oh, its set to 17x"
"Okay, you gotta tune it down."
"It won't let me."
"Oh your mobo locked that feature."
"Ok, how do I unlock it?"
"Well, I don't know how your mobo works, last time I saw your BIOS it's quite different from mine, layout, labels and shit"
"Oh, damn."
"Well, call Huppy [Hup Lim] la."
"The fucker's asleep."
"Oh yeah, he must've had a long day to day."
"Why la?"
"Well, yesterday was his birthday, and today I heard he's got some shit going on. So I guess he must be really spent, even if he didn't blow a load into some guy's ass"
"I thought his ass got the load?"
"What difference does it make?"
"Playing trains, huh?"
"Oh god, don't remind me of that."
[Well, that's just how YC and I would usually chat, though I did add on some parts at the end to make it a bit more interesting. I was on prepaid so we had to cut our chats short, hahaha, sorry abt the add-ons, it's really just for fun]
So, here I am, and oh, just so you know how excited I am;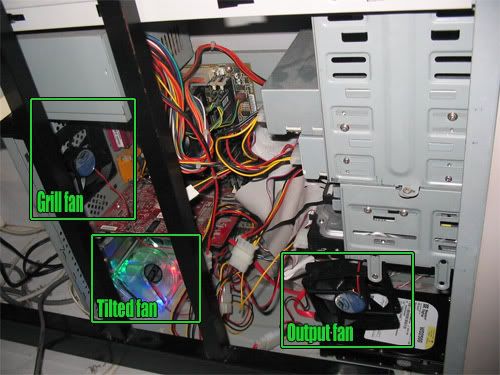 Yes, I know the cables are messy and shit, I'll have them tied up nice and tight. I'll be working on cable mess reduction the whole of tomorrow. So for now, I just have to wait for ANBU's sub [they're unbelievably slow lately] of Naruto 110-111 to finish downloading.
Oh well. Life is Good.
Friends
Photography
Anime
Design
Extras